Sustainability 2021
SUSTAINABLE AND RESPONSIBLE BUSINESS
THE CONTINUATION OF OUR JOURNEY
In 2020 we launched our ESG strategy which is aligned to our Group purpose, values and our Group strategy. At the outset we emphasised that as a market leader we have the ambition to lead the sector in driving positive change within the upholstery market and we also recognised that we were unable to address our entire ESG agenda at once. In 2020 we made a conscious effort to prioritise sustainability in our ESG strategy and in 2021 we have both expanded our sustainability approach whilst placing a greater emphasis on social factors.
Why is this important to us?
As our Group purpose states, we want to bring great design and comfort into every living room. But we want to do it in an affordable, responsible and sustainable manner. This means making sure our business is built on the right ethical foundations - to ensure that, with our sofas, people feel more comfortable - in every way. Therefore, we have put significant time and effort into developing our approach to ESG and have a strategy for our Group that builds on the values already established across all our businesses.
Opportunity, rather than obligation
We believe that the initiatives we are putting in place will help differentiate our brands from the competition by appealing to a growing customer base that want to ensure the products they buy are sourced through responsible and sustainable methods. We also believe the initiatives will help to mitigate risks and reduce our relative operating costs over time.
It's the way we do business
It all adds up to our belief that we can meet our customers' expectations and continue to grow our business while embracing our social and environmental responsibilities. We know sustainability is essential to our business, and ESG is an integral part of our growth strategy. That's why everyone in the senior leadership team is involved and accountable in some way for the ESG strategy. It's all part of putting our customers and colleagues - and planet - at the heart of everything we do.
Our Values
Be Real
We bring our whole selves to work, our point of view is valued and we are encouraged to have our say. We respect each other and as a family are driven by our purpose.
Think Customers
We always treat customers as we would our own family. We keep them front of mind because they are the heart of our business.
Aim High
We are ambitious and play to succeed at our shared family ambition. We are bold, brave; we see challenges as opportunities to be innovative and lead by example.
Our Environmental Strategy
Our strategy follows a circular approach, based on the life cycle of a sofa. All the way from the raw materials we source, the manufacture, sale and delivery of the sofa, right through to the end of the sofa's life.
The aim is to capture the complex and interlinked aspects of a sofa's life in one place, and ensure we build in sustainability wherever we can. For example, through ensuring we source FSC-compliant wood for the frames, or by planning the most efficient drop-off route for customer deliveries to minimise carbon emissions.
Protecting our colleagues, communities and business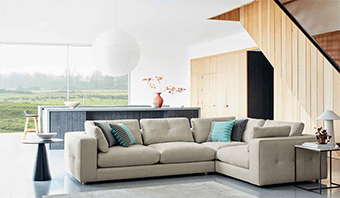 You can view all of our Group wide policies, including our environmental, timber and leather policies by clicking here

You can view our first ESG Supplier Conference held in March 2021 by clicking here

You can view our Modern slavery and human trafficking policy by clicking here