A sofa for everyone
We aim to offer our customers the widest range of upholstery styles in the UK covering traditional, contemporary and classic designs across a broad spectrum of price points.  A typical store will have 60-70 distinct upholstery ranges on display at any one time, with many more offered on our website.  Our products are made-to-order, meaning we are frequently able to offer our customers both a choice of over 10 unit types per range, and a number of premium materials with up to 50 colours available.
To enhance the breadth of our product offer we recently introduced a number of our own exclusive branded upholstery ranges such as Capsule Collection and Grand Tour.  We have also developed exclusive brand partnerships with Country Living and House Beautiful, monthly interior design publications owned by Hearst Magazines, French Connection the fashion clothing retailer and G-Plan, the branded upholstery manufacturer. 
Our recent acquisitions of Sofa Workshop and dwell have brought additional well-recognised furnishing brands within the DFS group.  This allows us to offer and even broader product range to our customers and provides new channels to market.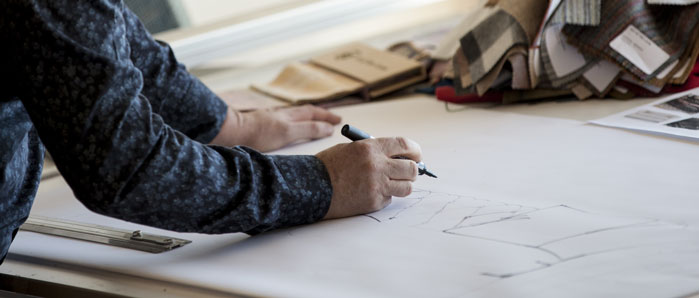 Leveraging our in-house British manufacturing expertise
While our core strategic focus is upholstery retail, we benefit greatly from the flexibility and supply-chain insight we receive from manufacturing more than a quarter of customer orders in-house at our three British upholstery factories.
With in-house manufacturing capability, we are able to flexibly manage our supply chain to reduce lead times on some made-to-order sofas to as little as three weeks.  We can also take new design concepts rapidly from our two British design studios through to production.  This speed and flexibility is a vital element of our business –  during the last financial year we introduced over 160 new upholstery ranges of which a quarter were designed in-house. 
Our deep understanding of the manufacturing process also helps our product buyers ensure competitive terms from our external suppliers, and we remain able to outsource or insource production volumes to keep our factories operating at highly-efficient levels.

Offering exceptional quality and service
All our products are made by hand by time-served upholsterers either at our three factories or at one of our long-standing supplier partners.  All our products are designed and manufactured to exacting standards and we so confident in our quality that we offer an industry leading 10 year structural guarantee across all our upholstery products.
To complement our product quality, we also invest in our service.  We directly employ over 200 delivery drivers and crew to allow us to provide our customers with a full installation service.  Our products are delivered into the room of our customer's choice and then are unwrapped, assembled (if required) and inspected before all packaging material is taken away for recycling.
Should any service issues arise we also employ around 200 in-house service technicians to promptly visit customer homes and address any service queries.
All of our customer-facing staff are well-trained and are incentivised on customer service measures. To ensure quality of service we are able to track customer satisfaction by individual product supplier, delivery crew or service upholsterer and we have been recognised by the Institute of Customer Service for the feedback process that we employ.