We aim to reward our employees fairly and support them in reaching their full potential.
One of the keys to DFS's continuing success is the exceptional team of people we employ and we invest substantial resources in the recruitment, training and development of our staff. By July 2016 the DFS team had grown to more than 3,900 people.
We remain strongly committed to helping all our employees make the most of their talents through our ongoing programmes of training and development.
Newly recruited sales staff receive two weeks of classroom training as part of a formal three month initial training programme.
Internal training courses are accredited to National Standards, with more than 4,300 days of formal training a year delivered in a wide variety of areas including retail, business and administration, customer service, distribution and logistics
Our customer service and administration programme has been accredited by the Institute of Customer Service
Employee remuneration is structured to reward high performance and DFS provides a wide range of additional benefits to support the health and welfare of our employees and their families, including life and critical illness cover and an employee assistance service.
Communication of the Group's strategy and business development is made regularly through presentations by senior management and newsletter or email updates. Employee views are sought through regular feedback sessions with directors and an active programme of employee engagement surveys, the results of which are communicated back to staff.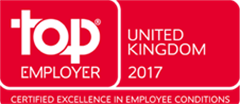 We continue to obtain external recognition for excellence in employee conditions by our established Top Employer certification from the Top Employers Institute.